4 Axis And 5 Axis CNC Router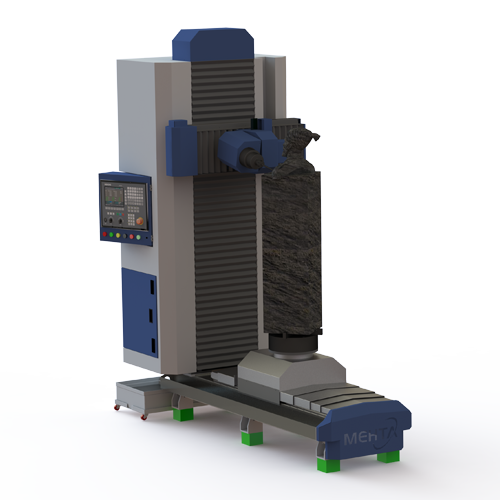 Features
Profiled steel welded lathe bed, stabilizing treated under artificial prescription ensures minimum distortion, excellent rigidity and vigorous strength.
Precise traveling of Y axis driven by double motors ensures stable performance of machine.
High precision rack transmission ensures high accuracy, fast speed and strong power.
Imported square linear guide rail ensures high accuracy, maximum work load and service time.
Best mechanical and electrical design with well selected branded parts with minimum breakdown rate.
Overall dust proof and water proof design protects all moving parts of the machine.
Ongoing filtration system is there to filter cutting oil from stone dust and to re-circulate cutting oil.
Applications
Technical Specification
Model
5X-R1203
X,Y,Z,A,B Traveling Area
1200mm x 500mm x 500mm x 360deg x 90deg
Z Traveling
500 mm
X,Y,Z Driven System
X,Y,Z axes Ball screw, A and B gear Box
X,Y,Z, Motor
1 KW servo motor Panasonic
Rotary Center to gantry Distance
500 mm
Rotary system
Rotary For 300×300 square,1200 mm long Wooden/Stone Block engraving
Spindle
5.5 KW watercool chinese Spindle
Controller
5 axes weihong controller
Lubriation System
Automatic Pump
Application
Wood/stone piller Work
*Specification are liable to change without prior notice.
Immediate Contact No.
092279 85731, 092276 78044
4 Axis And 5 Axis CNC Router