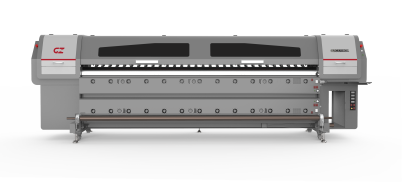 Features
➔Dimatix GMA33 Print Head
➔Dual Rolls Feeding System
➔More precise and durable enhanced body.
➔Upgraded panasonic A6 servo system.
➔Negative Pressure Recirculation System.
➔Smart IR drying system.
➔Advanced color management software.
Salient Features
Dimatix GMA33 Print Head

GMA33 print head is a compact, durable, full
silicon MEMS print head. 5pl dropsize, closed
nozzle lines, RediJet in recirculation, high
frequency and various drop make it ideal for
both high speed and high quality printing.

GZ Variable Dot Technology

GZ Variable Dot Technology delivers
flawless skin tone, smoother gradient ,crisp text and intricate detail without
losing speed.

Intelligent QT drying system!

Intelligent QT (Quartz Tube) drying system with industrial
power switches could synchronously treat the printing evenly and efficiently.
Compared with the traditional glass tube IR drying system, it is more strong
and durable especially during transportation.


Dual Rolls Feeding System

Dual rolls feeding system doubles the
productivity while printing short media.
Taking up system with air shaft enables
accurate and stable media rewinding.

Robust, Durable And Precise Body

Reinforced CNC aluminum beam and dual
linear guides assure high speed, high
resolution printing in a long run. *Double linear guides than regular.

Panasonic A6 Servo System

Panasonic A6 servo system has high
torque and low vibration, assuring
more stable and accurate printing. * Others use regular Chinese brand.
Technical Specification
Model
GZC 3208GA
Print Head
8 Dimatix GMA33 Print Heads
Technology
Piezo Variable Dot (Greyscale)
Ink
C.M.Y.K Eco Solvent Ink
Ink Supply System
GnTek Negative Pressure System
Printing Width
Max. 3200 mm
Media Type
Coated PP, Vinyl, Film, Banner
Feeding System
Automatic dual rolls media feeding system
Drying System
Pre, mid, post and extended heater plus smart IR drier
Printing Speed
Draft: 600x600dpi – Low Feather: 85m2/h
Production: 600x600dpi – Medium Feather: 64m2/h
High-res: 600x600dpi – Medium Feather: 48m2/h
Photo: 600x1200dpi – High Feather: 28m2/h
Data Interface
External: USB 2.0 ; Internal: High-speed SCSI
Working Environment
Temp. 23°C~29°C, Humidity: 50%~80%
Software
PhotoPRINT +GZ Control Console
Power
50Hz/AC 200V+10% 13A(printer)+16.73A (IR drier)
Installed / Packdge Size
LxWxH (mm) : 4790x 1193 x 1520 / 4930 x 1150 x 1740
G.W. / N.W
1315kgs / 1015kgs
Specifications are liable to change without prior notice. The printing speeds are measured in 3.2m width printing.
Immediate Contact No.
092276 78041, 092276 78044