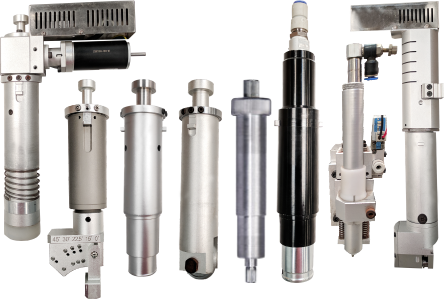 Applications
Electronic Oscillating Knife for cutting soft and medium density materials, available with 1mm stroke.
Driven Rotary Tool for cutting textiles.
Drag Cutting Tool used for through cutting materials with thickness up to 5 mm at high speed at low cost.
V-Cut Tool is the perfect tool for producing complex structural designs from foam core or sandwich board materials. The tool can be set for cutting 5 different angles for different cutting requests. The 5 different angles are 0°, 15°, 22.5°, 30°, 45° respectively.
Kiss Cut Tool for cutting vinyl, foil, films, thin paper, cardboard and other thin materials.
Creasing Tool is used for creasing corrugated materials. A selection of creasing tools allows perfect creasing in many substrates.
Pen Tool you can draw a variety of graphics on the material, fully meet the customer's personalized production needs.
Pneumatic Oscillating Tool is an Air driven tool operating at high frequency to cut materials. Stroke is adjustable up to 8mm and is capable of cutting hard dense materials. Blades are available to permit cutting materials up to 50 mm thick.
Immediate Contact No.
075750 09639, 092276 78044