High Speed Laser Engraver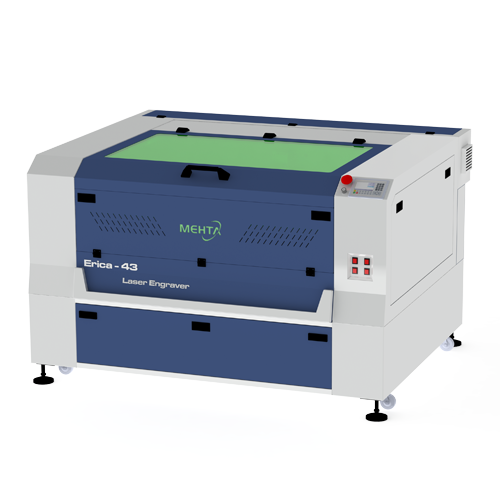 Features
AC Servo Motor Technology (Japan) for high speed and high precise movement control.
Pass-through front and rear doors to accommodate long working pieces.
Red beam dot pointer to helps to see the expected laser beam position for cutting and engraving.
Processing le path in display while running the machine.
Smart light module at working table area.
Virtual printer driver functions.
USB ash Drive supporting read le directly from USB Flash Drive, you can work even without PC.
Power brake function: to resume work in case of power of.
Speed 80 IPS*
The latest Vi Series lasers – for 30W and 40W. Ultra Compact next generation Co2 laser tube cut a wide variety of material with incredible accuracy. No consumable parts and long operating lifetime performance, Synrad is the only CO2 laser manufacturer that can boast of proven operating lifetimes in excess of 45,000 hours (at which time, a simple and inexpensive gas rell returns the laser to full operation). The New Vi Series includes a new Temperature Broadcast feature for real-time condition monitoring and the design efficiently manages thermal resistance and power to deliver a stable accurate beam. The Vi Series are some of the most compact and lightest 30 W and 40 W CO₂ lasers.
The latest restar Ti-series – for 60W, 80W and 100W. Maximum power and performance from an air-cooled CO₂ laser is the drive behind their restar Ti series technology, Synrad's restar Ti series lasers are built on technology using a patented hybrid, unstable resonator design.
Auto Focus The auto focus tools helps to adjust and x focal length by automatic table up and down. It saves the time of setting the right distance (focal length) between head and top surface of the materials when you work with more materials having different thickness. Right focal length is the most important to get good quality engraving.
X, Y, Rails
The linear guideway body consists of an anodized aluminum housing with a chrome steel gcr15 shaft which is of low friction, noise and vibration. The pulleys/pinion is equipped with maintenance free U shape bearings.
It redene the classic belt drive, putting belts to work in an entirely new way that reduces the positioning errors and speed limitations of conventional belt drives.
Mehta's linear modules provides high load capacities, high speed, accuracy and repeatability. The linear bearing system is corrosion resistant, even after scratching.
Controller ERICA's lastest laser engraving & cutting control system has better stable hardware with antistatic, resistance to high pressure. Based on 5-inch colorful screen, human-machine operation system, with better operation interface and stronger functions, excellent motion control functions, high-capacity le memory, with strong compatible 2-way independent adjustable laser power control interface, strong compatible U disk drive program, multiple ways general/dedicated IO control.
User Friendly Driver Interface Virtual Printer Mode, File Send Direct From CorelDRAW
Application
Leather
Fabric
Paper
Wood
Acrylic Engraving
ABS Label
Leather Label
Acrylic Cutting
MDF
Technical Specification
Model
ERICA 30
ERICA 32
ERICA 43
Power
30W / 40W
60W / 80W / 100W
60 / 80 / 100 / 150 / 200W
Working Area
Cutting Area
736 mm x 457 mm
915 mm x 610 mm
1220 mm x 915 mm
Engraving Area
666 mm x 457 mm
840 mm x 610 mm
1150 mm x 915 mm
Laser Source
Sealed Co2 Laser Tube (U.S.A.)
Positioning Accuracy
0.01mm
Drive & Motor
A.C Servo Control (Japan)
Maximum Speed
80 IPS*
Speed Control
Adjustable From 0.1 – 1000 mm/sec. (Up To20 Colour Linked Speed Setting Per Job)
Power Control
Adjustable From 1.0 – 100% (Up To 20 Colour Linked Speed Setting Per Job)
Z Axis Movement
Automatic up to 180mm
Resolution (DPI)
Up to 4000 DPI
Support Formate
HPGL, DWG, CDR, PLT, DXF, BMP, JPG, AI, GIF, TIFF, PSD
Operating Environment
Air Cooled (Except 150 & 200W), Operating Environment Temperature 15 -30 C (59 -86 F)
Memory Buffer
128 MB
Red Dot Pointer
Yes
Computer Interface
U-Disk, USB, Ethernet
Display Panel
5 Inch TFT Full color Colorful LCD Screen Showing Current File Name,Total Working, Laser Power & Engraving Speed
Engraving Capability
256 Level Gray Scale Image Processing Capabillity
Computer Systems
Win 7/8/10, 32/64 Bit
Pass Through Doors
Yes
Virtual Printer Driver
Support CorelDRAW Direct Out Put
Safety
Class Ii 3R For Red Pointer, Class I Laser Product Compliant with En60825, Class 4 Laser Product Compliant with CDRH with the optional pass-through door module
Fume Extraction Systems
External exhaust system with minimum flow rate 1200m3/h (CFM 706 ft3/h). Connection output 4" Diameter
Power consumption
1100W
2500W
2500W
Operating Voltage
220-230 AC / 10 A, 50/60 Hz
Machine Dimensions (W x L x H)
1300 x 1081 x 1070 mm
1486 x 1241 x 1045 mm
1825 x 1510 x 1150 mm
Weight
342 kg
385 kg
405 kg
Specifications are liable to change without prior notice. All trademarks mentioned are property of their respective owners. *Speed Does not equal to throughput
840
Immediate Contact No.
092279 85717, 092276 78044
High Speed Laser Engraver