Laser Engraving & Cutting Machine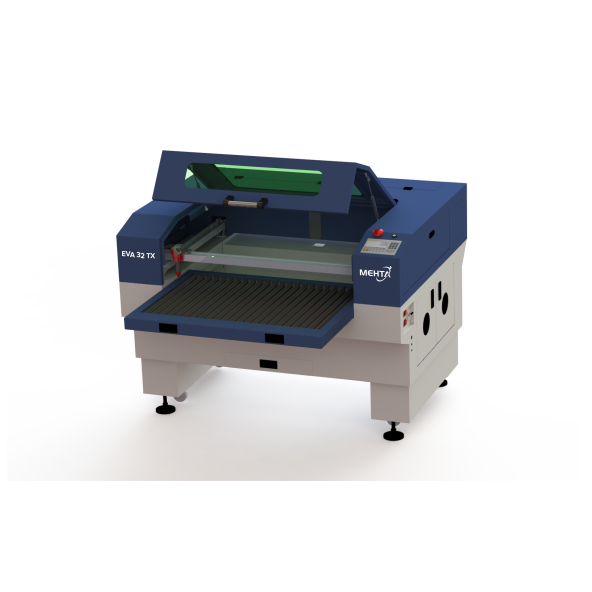 Features
Pass through design for long length of work piece in Y-axis direction.
Machine is Provided with Foot-mounting legs so that there is no vibration in machine can be adjusted on zero level.
Laser cut software with windows based software enhance cutting speed & angle / curve performance.
The specially design create vacuum which holds the material strongly.
Special mirrors are used for long life even though bad fumes are generated from PU or some fabrics.
Strong and sliding honeycomb table.
High Quality of chiller unit for better performance and long life of laser tube.
Application
Technical Specification
Model
EVA-32 TX
EVA-43 TX
EVA-43 TX 2H
X,Y Cutting Area
918 mm x 610 mm
1220 mm x 918 mm
1220 mm x 918 mm
Laser Power
40 W/60 W
80 W/100 W
80 W/100 W
No. of Head & Laser Tube
1
1
2
Traveling Speed
800 mm/s
Reposition Accuracy
0.02 mm
Minimum Letter Size
1 mm (English Font)
X Y Movement System
Belt Transmission
Red Beam
Yes
Power Adjustment
1 to 100%
Driving System
Stepper Motor / Servo Motor
Operating System
Win 7/8/10, 32 bit/64 bit
Interface
U-Disk, USB interface, Ethernet
Supported Format
PLT, DWG, DXF, BMP, JPG, AI, HPGL, DST
Working Voltage
Single Phase 220V/50Hz (Required Earthing)
Running Environment
45 C, Humidity 5% – 80%
Operating Display
16 Key with Graphic Display
Memory Buffer
128 MB
Overall Dimension (L x W x H)
1535 x 1165 x 1085 mm
1835 x 1470 x 1070 mm
1835 x 1470 x 1070 mm
Weight
243 Kg
332 Kg
405 Kg
Power Consumption
3.0 KW
Specifications are liable to change without prior notice. All trademarks mentioned are property of their respective owners.
Immediate Contact No.
092279 85717, 092276 78044