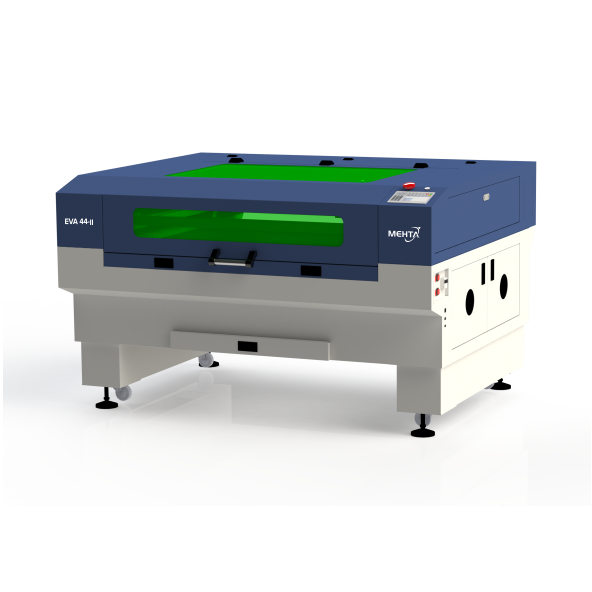 Features
➔
Pass Through Design for long length of work piece in Y-axis direction.
➔
Machine is Provided with Foot-mounting legs so that there is no vibration in machine can be adjusted on zero level.
➔
As it is made in india No waiting period for spare parts & quick service support.
➔
Machine is provided with heavy duty compressor which has Air-assist combining adjustable focus systems in coaxial jet air to prevent cutting edge from burning down.
➔
Laser cut software with window based software enhance cutting speed & angle / curve performance.
➔
Laser seals the edges of fabric while cutting. ➔

Maximum cutting thickness of arcylic – 25mm.


➔

High quality of chiller unit for better performance and long life of laser tube.
Applications
Technical Specification
Model
EVA 21-II
EVA 32-II
EVA 43-II
EVA 44-II
EVA 48-II
EVA 510-II
X,Y Cutting Area
2' ft. x 1.5' ft.
3' ft. x 2' ft.
4' ft. x 3' ft.
4' ft. x 4' ft.
4' ft. x 8' ft.
5' ft. x 10' ft.
Laser Power
60W
80W / 100W
80W / 100W / 130W
100W / 130W / 150W
80W / 100W / 130W / 150W
100W / 130W / 150W
Laser Source
Sealed Glass Co2 Laser Tube
Travelling Speed
600 mm/s
Reposition Accuracy
0.02 mm
Minimum Letter Size
1.0 mm (English Font)
X Y Movement System
Belt Transmission
Z – Axis Movement
Automatic Up to 180 mm (optional)
Power Adjustment
1 to 100 %
Driving System
Stepper Motor/servo motor
Operating System
Win 7/8/10, 32/64 bit
Computer Interface
Udisk, USB, Ethernet
Supported Format
PLT, DXF, BMP, JPG, AI, DWG, BMP, GIF, HPGL
Compatible Software
CorelDRAW, AUTOCAD, Photoshop, Tajima
Working Voltage
Single Phase 220-230V / 50Hz-60Hz, 20A Max.
Operating Environment
45°C, Humidity 5% – 80%
Memory Buffer
128 MB
Fume Extraction System
External exhaust system with minimum flow rate 1200m3/h (CFM 706 ft3/h). Connection output 4″ Diameter
Overall Dimension (L x W x H)
1010 x 490 x 1030 mm
1170 x 1530 x 1000 mm
1450 x 1780 x 1070 mm
1770 x 1830 x 1070 mm
3440 x 2172 x 1030 mm
4050 x 2500 x 1030 mm
Weight
190 Kg
243 Kg
332 Kg
380 Kg
860 Kg
680 Kg
Power Consumption
1.2 KW
2 KW
2 KW
3.5 KW
3.5 KW
4.3 KW
Specifications are liable to change without prior notice. All trademarks mentioned are property of their respective owners.
Immediate Contact No.

092279 85717, 092276 78044