Laser Marking & Coding Machine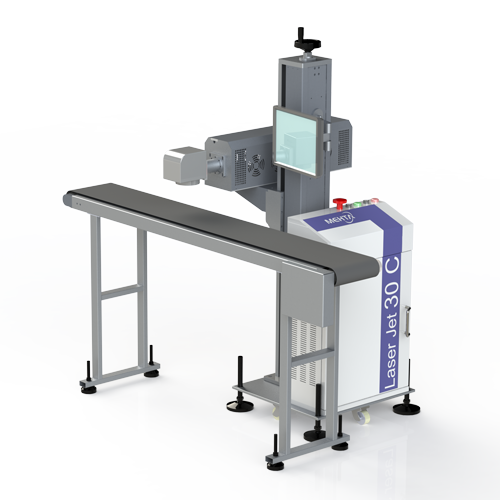 Features
Professional
➔
Physical DSP marking card to complete calculation in 1us and 10us real-time positioning, ensuring hi-speed on-fly marking without deformation.
➔
Provide precise lens correction, higher 1D/2D code read rate, more accurate meter count and more precise on-the-fly spacing.
➔
Crossing point does not mark for text, effectively prevent heavy points problem.
➔
Memorize 16 trigger positions, easy to install photoelectric sensor, speed up the line speed, reduce the miss marking opportunity.
Security
➔Shutter design, more safe, more reliable.
➔Enhanced anti-EMI ability; stable work in a harsh environment.
➔Support electricity losing to store the last marking file for job recovery.
Applications
Technical Specification
LJC

-25

LJC

-30

LJC

-60
Power
30W
60W
Laser Wavelength
Co2 10.64µm (Optional 10.2µm / 9.3µm)
Line Speed
Max. 320M/min (Depends on marking content and material)
Marking Features
Character Size: 0.4mm – Max. marking scope of lens
Min. line width: 0.1mm
Repeatability: <20urad
Lens scope: 110*110mm, optional for 70*70mm, 140*140mm, 200*200mm
Marking fonts: TrueType, single line font, dot matrix font (Support customized font)
Language: English, Japanese, Russian
Marking Mode: On-the-fly marking (Constant, Variable speed); Static marking; Precise cable marking (option); Online swapping file marking; Communication marking (RS-232, TCP/IP)
High-speed scan head
Other Features
The interconnection cable length is 2.5M between main enclosure and laser unit
Power supply: 100-240V, 50/60HZ
Environment temperature: 5-40°C
Fan cooling
Power Consumption
750W
Technical parameters are liable to change without prior notice.
Optional
1.2M stand lifter, lifting range: 830-1180mm
1.6M stand lifter, lifting range: 830-1580mm
Horizontal shifter, shifting range: 80-400mm, dimension: 245*170*12mm
Optional Accessories: Encoder, Photo electronic sensor, Googles, USB disk
Immediate Contact No.
092279 85746, 092276 78044
Laser Marking & Coding Machine