Laser Marking & Coding Machine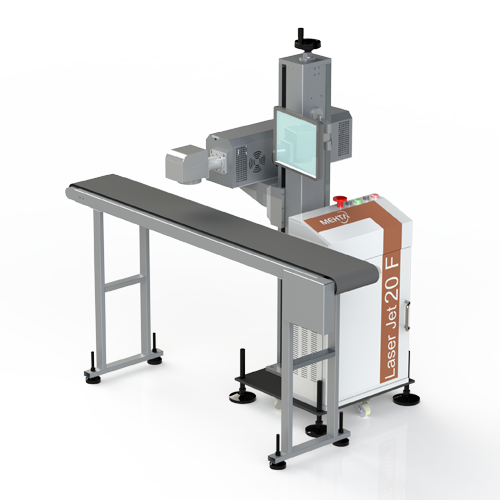 Features
Convenient
➔
Positioning and focus guide indicators to have accurate mark positioning and quality.
➔
Fast import and export file through external USB port.
➔
Support mark file editing during on-fly marking.
➔Module design, few components, easy to disassemble and move.
Economic
➔
Optimized marking path algorithms to fulfill on-the-fly marking with lower laser power.
➔
Optical path integrated design and precise tuning to ensuring the max. effective laser power.
➔A fan-cooled laser, low-power consumption, long life, maintenance-free.
Applications
Technical Specification
Model
LJF-20
LJF-30
LJF-50
Power
20W
30W
50W
Laser Wavelength
1064±4
Line Speed
Max. 320M/min (Depends on marking content and material)
Marking Features
Character Size: 0.3mm – Max. marking scope of lens
Min. line width: 0.05mm
Repeatability: <20urad
Lens scope: 110*110mm, optional for 70*70mm, 140*140mm, 200*200mm
Marking fonts: TrueType, single line font, dot matrix font (Support customized font)
Language: English, Japanese, Russian
Marking Mode: On-the-fly marking (Constant, Variable speed); Static marking; Precise cable marking (option); Online swapping file marking; Communication marking (RS-232, TCP/IP)
High-speed scan head
Operation Method
10" inch touch screen display
USB drive to upload or download file
Support encoder, pedal, I/O, photoelectronic sensor port
Support ethernet, USB, RS-232 port
Support remote operation
Other Features
The interconnection cable length is 2.5M between main enclosure and laser unit
Power supply: 100-240V, 50/60HZ
Environment temperature: 5-40°C
Fan cooling
Power Consumption
750W
Technical parameters are liable to change without prior notice.
Immediate Contact No.
092279 85746, 092276 78044
Laser Marking & Coding Machine