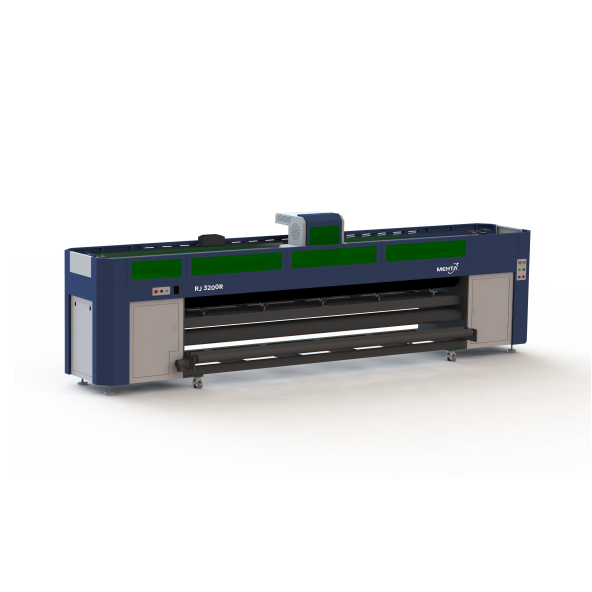 Features
Industrial Level UV Roll to Roll Printer
RR 3200G is High printing speed & High resolution Industrial UV Printer which will meet the speed and quality request of clients. It is equipped
with 2-6units Grey Scale micropiezo printheads, 4/6/8 colors high productivity print is available which is to satisfied the clients when clients are
with big batch production order.
Highlight Features
Printer Details
| | |
| --- | --- |
| | Igus Brand Carrier Chain Super Precision with Low Friction Noise |
| | High Accuracy Inflatable Media Take-up Roller Media stepping stretching tension is adjustable to keep media going accurately. |
| | THK High Precision Mute Linear Railr Greatly reduce noise during carriage moving and improve linear rail smooth-going, use life and lubricating efficiency. |
| | High Precision Heavy Roller High Precision Heavy Roller |
| | Ricoh GEN5 Printhead Type: GEN 5, 7PL, printing speed is up to 45m2/h, resolution is up to 2400DPI. The image is exquisite and the effect is amazing. |
Simple Operation Application
| | |
| --- | --- |
| | |
| | Accurate Suction Control with Printing Table Suction from printing table is adjustable, it will avoid media wrinkle and keep printing resolution more table . |
| | Ink Lack Alarm System Device Main ink tank equipped with automatic alarm system, and alarm light will flash when the ink is lack. |
| | Data Statistics: After each picture is printed completely, the computer automatically statistics the amount of ink consumption, the printing time, the area and so on. |
High Quality Printing Effect
| | |
| --- | --- |
| | The printed image is more delicate and brighter, which improves the expressiveness of the picture, it is more real and with a great vision impact. |
| | Intelligent Feather Printing Technology: The unique intelligent feather printing technology can improve the curable reflective stripes which occurred in the printing process, so that the printing quality can reach the ideal state. |
| | 3D Effect: The printer can print on the transparent film with 3D effect to make your advertising picture different and attractive. |
| | Varnish Effect: After each picture is printed completely, the computer automatically statistics the amount of ink consumption, the printing time, the area and so on. |
Applications
Technical Specification
Model
RR 3200G
Print Size
3200mm
Printhead
Ricoh GEN 5 (7PL)
Ink Color
C,M, Y, K, LC, LM, W, Varnish ( optional)
Print Resolution
720*600DPI; 720*900DPI; 720*1200DPI; 720*2400DPI
Print Speed
Production Mode 50m2/h, Quality Mode 30m2/h, High Quality Mode 23m2/h
Rip Software
RIP Center
Print File Format
TIFF, JPEG, PDF, EPS, PNG, etc.
Curing System
LED UV System
Available Printing Media
Wall Paper, Film, Photo Paper, Flex, Banner, PP Film, Vinyl, One-way Vision, Inkjet Fabric, etc.
Power
AC 220V +/- 10%, 50HZ/60HZ
Power Rating
6.5KW
Media System
Roll to Roll, Automatic Media Feeding & Take-up System
Working Environment
Temperature: 15℃-28℃,Humidity: 40%-70%
Printer Dimension
5100mm*1250mm*1600mm (Length*Width*Height)
Packing Dimension
5200mm*1440mm*1850mm (Length*Width*Height)
Computer Configuration
Computer System: Win 7, 64 bit; Port USB 2.0/3.0, Hard Disc: More than 500GB; GPU Memory: 8GB; CPU: Intel i5
*Specification are liable to change without prior notice.
Immediate Contact No.
092276 78041 / 092276 78044