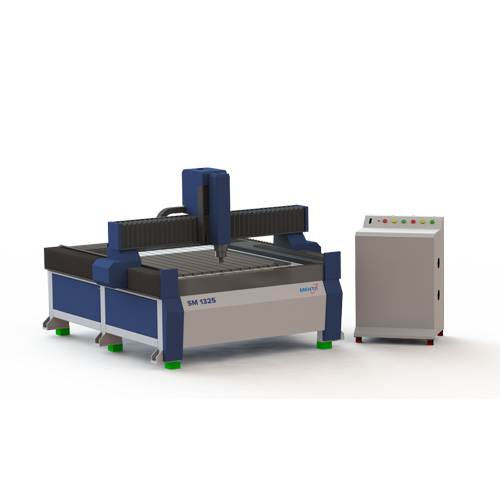 Features
➔
Profiled steel welded lathe bed, stabilizing treated under artificial prescription ensures minimum distortion, excellent rigidity and vigorous strength.
➔
Precise traveling of Y axis driven by double motors ensures stable performance of machine.
➔
High precision rack transmission ensures high accuracy, fast speed and strong power.
➔
Imported square linear guide rail ensures high accuracy, maximum work load and service time.
➔
Best mechanical and electrical design with well selected branded parts with minimum breakdown rate.
➔
Overall dust proof and water proof design protects all moving parts of the machine.
➔
Ongoing filtration system provided which filters the cutting oil from stone dust and re-circulate cutting oil.
Applications
Technical Specification
Model
SM 1325
SM 1530
Outer Dimension(W x L x H)
2385 x 3660 x 1600 mm
2585 x 4160 x 1600 mm
Machining Area
1300 x 2500 mm
1500 x 3000 mm
Spindle
5.5 KW (Water cooled spindle)
5.5 KW (Water cooled spindle)
Spindle RPM
24000 max
24000 max
Z Max. Traveling
300 mm
300 mm
Distance between Bed and Gentry
300 mm
300 mm
Cutting Tool Diameter
Ø3 to Ø16
Ø3 to Ø16
Repeated Location
0.025 mm
0.025 mm
Max Running Speed
15 m/min
15 m/min
Weight
1100 Kg
1575 Kg
Power Supply
AC 420V / 50Hz
AC 420V / 50Hz
Controller
New Advance DSP Hand Controller
New Advance DSP Hand Controller
*Specification are liable to change without prior notice.
Immediate Contact No.

075750 09631, 092276 78044