Laser Engraving & Cutting Machine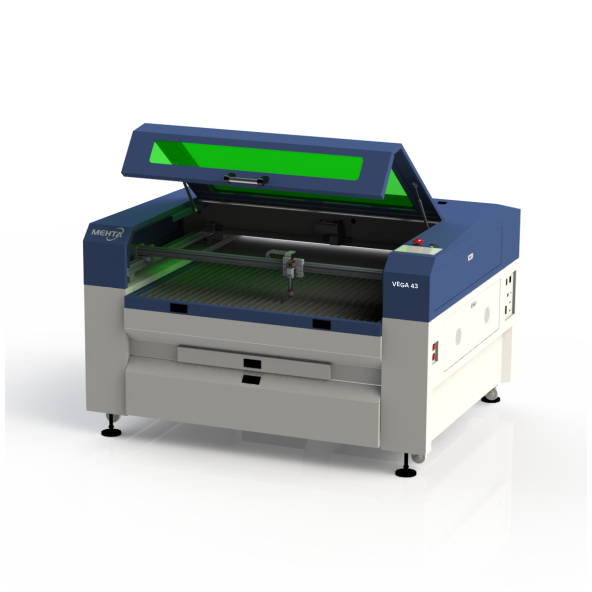 Features
AC Servo Motor Technology For High Speed And High Precision Movement Control.
Red Beam Dot Pointer To Help You See The Expected Laser Beam Position For Cutting And Engraving.
Processing File Path Is Displayed Simultaneously When The Machine Runs.
USB Flash Drive Supports Read File Directly From USB Flash Drive Without The Use Of Computer.
>Power Brake Function: Re Continue Work After Power Off.
High Quality Of Chiller Unit For Better Performance And Long Life Laser Tube.
Machine Is Provided With Foot-mounting Lags So That There Is No Vibration In Machine And Machine Can Be Adjusted On Zero Level.
Machine Is Provided With Heavy Duty Compressor Which Has Air-assist Combining Adjustable Focus. Systems In Coaxial Jet Air To Prevent Cutting Edge From Burning Down.
Application
Technical Specification
Model
VEGA 43
VEGA 48
Watt
100 / 130 / 150 Watt
220 / 300 Watt
Working Area
1220 x 915 mm ( 48 inch*36 inch)
1220 x 2440 mm ( 48 inch*96 inch)
Engraving Area
1150 x 915 mm ( 45 inch *36 inch)
–
Co2 Laser Source
Sealed Glass Laser Tube
Double Tubes Beam Combination Laser Tube
Positioning Accuracy
0.02 mm
0.02 mm
Drive
A.C Servo Control (Japan)
Maximum Speed
40 IPS
upto 300 mm/sec

Speed Control
Adjustable from 0.1- 100% (up to 20 colour linked speed setting per job)
Power Control
Adjustable from1.0 – 100% (up to 20 colour linked speed setting per job)
Z Axis Movement
Manual
up to 40 mm Motorized
Cooling
Water Cooled
Resolution (DPI)
Up to 4500 DPI
–
Supported Formats
plt, dxf, bmp, jpg, ai, gip, tif
Focus Lens
Standard 2" and 5" Inch
Maximum Cutting Depth
20 mm Acrylic
40 mm Acrylic
Memory Buffer
256 MB
Red Dot Pointer
Yes
Computer Interface
USB -A For USB Storage, USB – B For Connection, Ethernet
Display Panel
5 Inch Colour Full LCD Screen Showing Current File Name,
Total Working, Laser Power, Engraving Speed
Cutting Table
Knife Shaped Cutting Aluminium Strip
Computer Systems
Win 8/10 , 32/64 bit
Power Consumption
2.5 kw
4.0 kw
Operating Voltage
220-230AC ,50/60 HZ, 20A
Fume Extraction Systems
External Exhaust System With Minimum Flow Rate 1200m3/h.
Weight
385 kg.
750 kg.
Outer Dimensions (mm)
1471 L x 1840 W x 1090 H
3600 L x 1900 W x 1000 H
Specifications are liable to change without prior notice.
Immediate Contact No.
092279 85717, 092276 78044