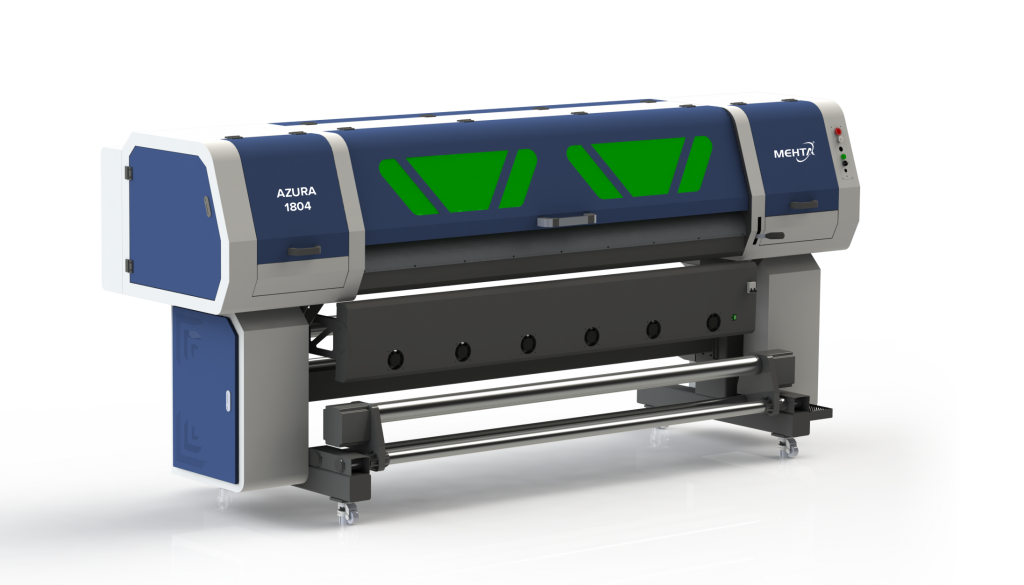 Features
Platform Suction Adjustable System.
Multi-Heating & Drying System.
Electronic Nozzles Flash Control.
Maximum Four Print Heads In Staggered Way.
Ricoh Gen-5
High-Pricision Silent Linear Rail
IGUS(Germany) Brand Super Carrier Chain & Cable
Anti Collision System
Panasonic A6 Servo System
 
Igus Brand Carrier Chain (Germany)
High Torque yet Low Vibration; Stable, and Accurate
Printing.
Super Precision with Low Friction Noise
IR Heater with Drying Fans
 
SAI Flexi Print 19 MCC Edition (RIP Software)
Powerful IR Heater with Enabling High Speed Printing
Capability.
Empower tour workflow with efficient tools and features
designed for all production environments.
Technical Specification
Model
AZURA 1804
AZURA 1802
Print Heads
4 Ricoh Gen 5 PrintHead
2 Ricoh Gen 5 PrintHead
Speed

| | |
| --- | --- |
| Mode | Speed |
| 2 Pass | 900 sq.ft./hr |
| 3 Pass | 650 sq.ft./hr |
| 4 Pass | 510 sq.ft./hr |

| | |
| --- | --- |
| Mode | Speed |
| 2 Pass | 350 sq.ft./hr |
| 3 Pass | 325 sq.ft./hr |
| 4 Pass | 255 sq.ft./hr |

Technology
Piezoelectric Inkjet Technology
Ink
Eco Solvent
Ink Supply System
Auto Consistent Ink Supply With Negative Air Pressure System
Acceptable Media
Width : 1850mm
Thickness : MAximum 1 mm
Weight : 88 lb./40 kg
Drying System
Pre, Mid, Post Heater + IR Drying System
Printing Width
Max. 1800mm
Media Type
Paper, PVC, Banner, Frontlit, Backlit, Vinyl, Film…
Rip Software
Flexi Print MCC Edition/Onyx
Image Format
.PDF, .JPEG., .TIIF
Data Interface
External: USB 2.0+; Internal: Fiber Optical Cable
Power
Single Phase 50Hz/AC 220V±10%, 10A (Printer) + 16A (IR Drying System)
Working Environment
Temp 23°C~29°C, Humidity: 50%~80%
Installed/Package Size
LxWxH(mm): 3250 x 1064 x 1465 / 3450 x 1265 x 1665
N.W./G.W.
600kgs
Specifications are liable to change without prior notice. All trademarks mentioned are property of their respective owners
Immediate Contact No.
092276 78041 / 092276 78044
Solvent and Flex Printers