Plasma Cutting Machine Table Type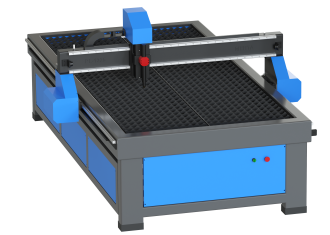 Features
Saving of expensive metal sheet materials and saving of total cutting time is most important to increase the productivity and profitability. Trooper nesting and cutting software is the right answer to your this requirement. Trooper software will increase your programming efficiency, material utilization, cutting productivity dramatically.
Plasma :- CNC controlled data communication to plasma power source thus cutting data are sent directly from the CNC controller to the plasma system (database) Arc voltage height control with data connection and automatic communication
Technical Specification
Model
PL 1325
PL 1530
PL 2030
Working Area
1300 mm x 2500 mm
1500 mm x 3000 mm
2000 mm x 3000 mm
Processing Material
Mild Steel, Stainless Steel, Aluminium, Galvanize
Plasma Source
Hypertherm 65amp / 85amp / 105amp / 125amp
Motor and Drive System
Stepper Motor
Control System
7″ display with high resolution, Industrial ARM7 processor chip, 2 axis controller, Storage capacity – 32MB
Transmission
X, Y axis – Rack and Pinion, Z axis – Ball screw
Nesting Software (optional)
Trooper 2d Cutting
Maximum Traveling Speed
100 To 10,000 Mm/min
Torch Height Controller
Thc System Included For Accurate Torch Height Control With Anti- Collision
Air System
Clean, Dry & Oil Free
Air Inlet
6 Bar (189 Ipm)
Input Voltage For Plasma Machine
1 Phase, 230v, 50hz
OxyFuel Attachment
No
*Specification are liable to change without prior notice.
Immediate Contact No.
072290 45313, 092276 78044