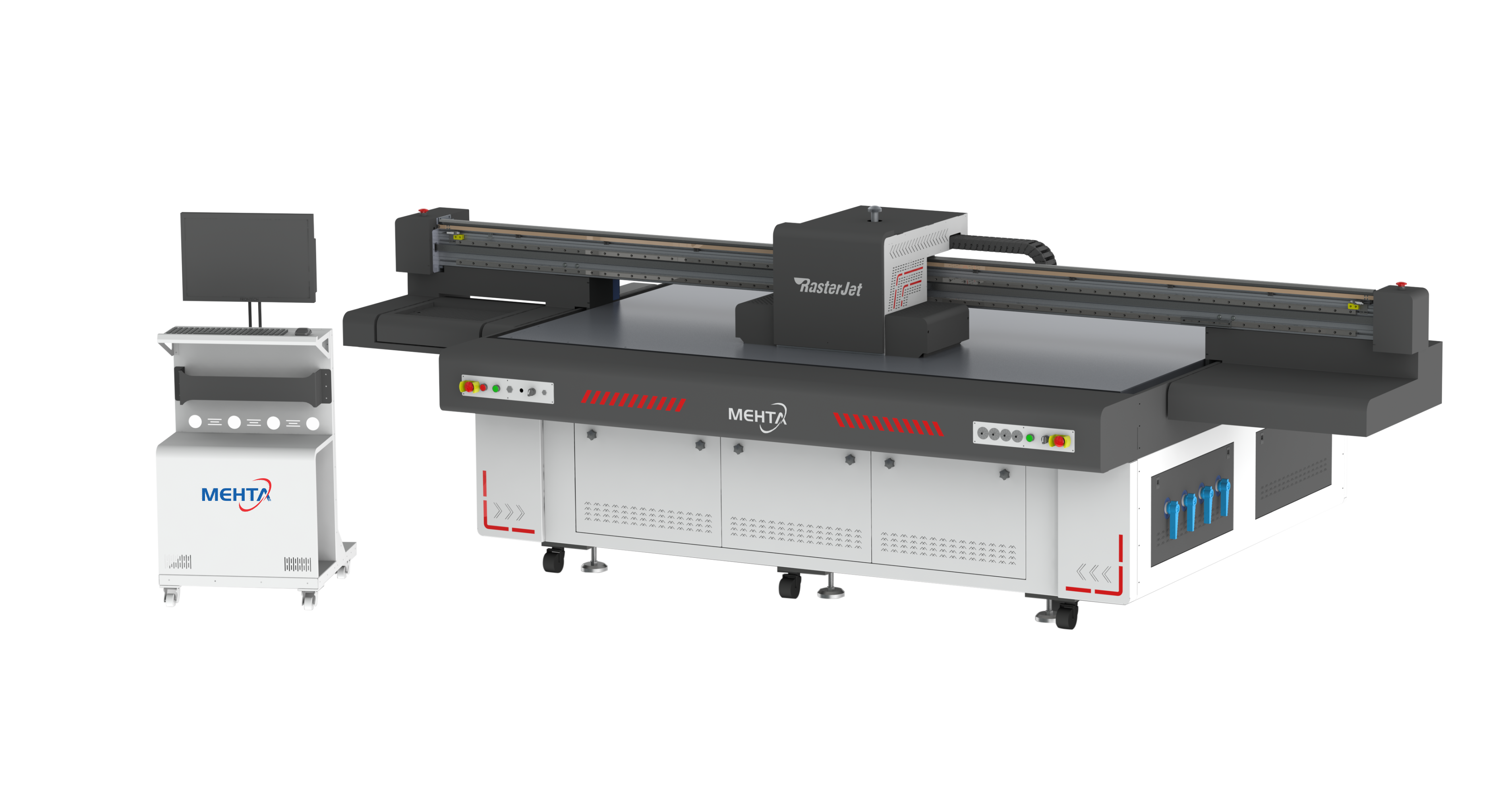 Features
Automatic Negative Pressure System
Using PCB board to control and set the negative pressure.
Kyocera Print Heads (each head has 2 ink channels)
Featuring variable dots, true grayscale imaging 4, 6, and 10pl.
UV-Curing LED
Instant on/off of lamps during printing for fast production.
Variable output power control.
Auto Height Detection System
Automatically detects height of media up to 100mm thickness and sets print head distance from media automatically.
Emergency Stop Switches
Operation from any corner of the printer.
Power on/off for Vacuum
Push button for operating vacuum table.
Peg Bar System
Pin registration for accurate and consistent rigid media placement.
Reversible Vacuum Valve (optional)
Reverse the air from vacuum to blow for easier heavy media loading and unloading.
Static Suppression (optional)
Standard static suppression kit that helps to eliminate static on the substrate.
Computer Stand
Movable Computer Stand for easy printing operation.
(Computer system not included with printer).
Highlight Features
Kyocera KJ4A printhead
Nozzle Quantity: 2656
Physical Resolution: 2*300dpi
Ink drop Size: Variable 4-6-10pl
Max Operating Frequency: 30Khz
Effective Print Width: 112.35mm
Variable Dot Technology
Variable Dot Technology enables the printer to print in 3 different dot sizes (small, medium and large) to create high quality images with smooth gradations. Variable Dot Printing uses smaller drops to produce smoother gradations and bigger drops create uniform solids. By producing dots in three different sizes, smooth high resolution graphics are created without a grainy appearance, even at high speed and in low resolution mode, high quality printing is possible..
Double Negative Pressure System
Separately control the negative pressure value of white ink and color inks, as individual viscosity and gravity with each other. It can ensure a smooth printing process and outstanding printing effect. The pressure value can be checked and adjusted according to production environment.
Reversible Printing Function & Repeat Printing Mode
Both reversible and repeat printing mode enables a higher efficiency in production.
Top Printing Speed: Up to 640 sq.ft / hr (Rk2513)
Engineered for high-quality printing. (RK 2513 Kyocera with double rows)
Technical Specification
Model
RK 2513
RK 2513 FR
RK 3220
Printing Technology
Piezoelectric on-demand inkjet technology with grayscale capability
No. of Printheads
3 Kyocera Print Heads (Standard) Up to 6 Print Heads (optional)
Printable Media Size Flatbed
2500mm x 1300mm
2500mm x 1300mm
3200mm x 2000mm
Printable Media Size Roll to Roll
–
2500mm width
–
Printing Resolution
1200 dpi
Acceptable Media Thickness
Up to 100mm
Ink type
UV LED curable ink
Ink Capacity
1.5 Liter Bottle
Colours
Cyan, Magenta, Yellow, Black, White
Configuration
(1) CMYK + White, (2) White + CMYK, (3) CMYK + White + CMYK
Ink Curing Unit
Dual LED Lamps
Software
Onyx RIP Center
Interface
Highspeed USB 3.0
Power Supply
100-110V AC / 220-240V AC, 50/60Hz
Required Power Capacity
For Printer Operation (15A) max, + For Vacuum Platform (15A) max
Power Consumption
Maximum 6.8kVA
Dimensions (mm)
L 2228 x W 4310 x H 1432
L 2800 x W 4350 x H 1600
L 2776 x W 5000 x H 1366
Weight
1150kg approx
1400kg approx
1600kg approx
Working Environment
(Power on) Temperature: 21°C to 30°C (69° to 86°F)/ Humidity: 35 to 80%
(Power off) Temperature: 5°C to 40°C (41° to 104°F)/ Humidity: 20 to 80%
*Specification are liable to change without prior notice.All trademarks mentioned are property of their respective owners.
Immediate Contact No.
075750 09639, 092276 78044